Donald Trump Meets Kim Jong un, New Besties Are BFF's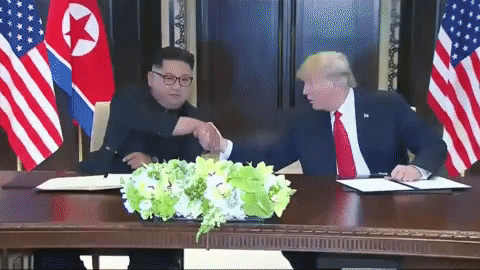 President Trump and Kim Jong un met in Singapore where they signed a pact declaring North Korea get rid of their Nukes in exchange for the US removing economic sanctions…President Trump was the Executive Producer in Chief and used a Hollywood pitch strategy to present Kim Jong un a visual future for North Korea ? a Sizzle Reel. ?
Trump knows long term that Kim will be in power long after he's no longer President of the United States and that his family could build North Korea into a Mecca of condos, casinos & cash. ? ? ? ? 
Trump made Kim an offer he couldn't refuse, sign on the dotted line and you'll get All the Tea in China. ??
Let's Make A Deal: You'll be a real world leader. I'll sway the midterm elections. And together we will save the world from the bloodthirsty Canadians. pic.twitter.com/kHa1w3ye03

— Jim Carrey (@JimCarrey) June 12, 2018
President Trump says he thinks Kim Jong Un will follow through with agreement:

"I may be wrong, I mean I may stand before you in 6 months and say, 'Hey, I was wrong.' I don't know that I'll ever admit that, but I'll find some kind of an excuse."https://t.co/SjJeNHlVRD pic.twitter.com/wXBWhvMvd0

— NBC News (@NBCNews) June 12, 2018